Saturday, 19 September 2015
PM Hovik Abrahamyan-Led Delegation Due to PRC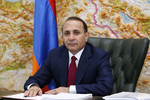 On September 21, 2015, a Prime Minister Hovik Abrahamyan-led government delegation will leave for the People's Republic of China on a working visit.
During his stay in Beijing, Prime Minister Abrahamyan will hold meetings with Premier of PRC State Council (Prime Minister) Li Keqiang, China Export-Import Bank Chairman Hu Xiaolian, China Civil Engineering Construction Corporation (CCECC) Vice President, First Secretary of the Communist Party Xon Yong.
Prime Minister Hovik Abrahamyan's delegation will attend a reception dedicated to Armenia Independence 24th anniversary at the Armenian Embassy in China.

Then the Prime Minister will travel to Xi'an (Shaanxi Province), where he will attend the Eurasian Economic Forum. On the sidelines of the Forum, Hovik Abrahamyan will meet with China State Council Vice-premier Wang Yang.