Monday, 1 June 2015
Congratulatory Address by Prime Minister Hovik Abrahamyan on International Children's Day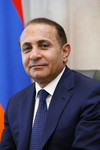 Dear compatriots!
I congratulate all of us on International Children's Day. Children in Armenian families have a special place, and regardless of different family-related and social problems, they are constantly surrounded by warmth, care and love.
Unfortunately, in our society there are also children in need of family warmth, daily care of the state and society.
As Prime Minister, I assure you that I will spare no effort to protect all children, to ensure their well-being and address many other problems of different nature.
June 1 is one of the most beautiful and joyful holidays in the year. Once again, I offer my heartfelt congratulations to all children and parents on this delicious day and wish the rising generation a peaceful, carefree, happy childhood and a prosperous future.