Thursday, 4 June 2015
Armenia Youth Foundation Board of Trustees Holds Meeting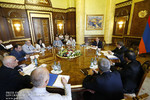 Chaired by Prime Minister Hovik Abrahamyan, today a meeting of the Board of Trustees of the Youth Foundation of Armenia (YFA) was held in the Government.
Under the first agenda item, the meeting discussed and approved the Foundation's annual report for 2014. Over 400 programs were reported complete in the following areas: education and science, healthy lifestyle, socio-economic and employment issues, spiritual, patriotic and cultural education, international cooperation, as well as various regional programs.
The Board took note of the auditing organization's findings on the financial statements of the Youth Foundation of Armenia for 2014.
The meeting next discussed and approved the budget of the YFA for 2015 and the procedure to follow in administering funds to young researchers in the framework of the support program for young scientists as implemented under the patronage of the President of Armenia.
The agenda included a number of organizational issues.