Wednesday, 29 April 2015
Prime Minister Holds Consultation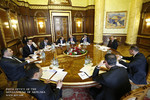 Chaired by Prime Minister Hovik Abrahamyan, a consultative meeting was held in the Office of Government, attended by representatives of government agencies dealing with economic issues.
The meeting discussed the pace of cooperation with international economic organizations and the status of joint projects.
Reference was also made to the steps and programs aimed at reinvigorating Armenia's economy, promoting exports, attracting new investment.
During the exchange of opinions that followed, the speakers came up with several proposals and recommendations.

Summarizing the consultation, Prime Minister Abrahamyan stressed the importance of systematic, consistent and continued activities toward activating various sectors of the economy.