Tuesday, 24 March 2015
PM Hosts Discussion on Economic Development Issues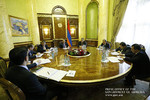 Prime Minister Hovik Abrahamyan chaired a consultative meeting to discuss economic developments in Armenia. In attendance were the representatives of stakeholder agencies.
In particular, a number of issues were discussed concerning the revitalization of the economy, boosting of exports, attraction of new investment, betterment of the business environment and competitiveness.
Reference was also made to the current macroeconomic situation in Armenia and the region, as a whole, as well as possible scenarios. In this context, the meeting reviewed the steps to take toward the development of the national economy.
The Head of Government instructed the relevant authorities to continue with the implementation of coordinated efforts aimed at developing the economy and submit proposals.