Saturday, 14 March 2015
Armenian Prime Minister, President of Egypt discuss a number of issues related to the development of relations between the two countries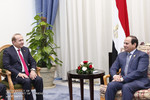 Prime Minister Hovik Abrahamyan as part of his visit to the Arab Republic of Egypt met with Egyptian President Abdel Fattah el-Sisi.
Highly assessing the current level of the Armenian-Egyptian political relations, the interlocutors discussed a wide range of economic cooperation development and expansion-related issues. The parties noted that there is a great potential for economic cooperation.
Coming to the activation of economic relations, both sides pointed to the importance of activating the work of the intergovernmental commission, holding business forums, deepening the ties between the business communities of the two countries.
The Armenian Prime Minister and the President of Egypt noted that agriculture, industry, tourism and other sectors of the economy are promising areas for the development and strengthening of cooperation.
Abdel Fattah el-Sisi praised the role played by the Armenian community of Egypt in the development of his country and noted that it is a good bridge to expand and deepen the Armenian-Egyptian ties.
Hovik Abrahamyan noted that Armenia prioritizes the development of bilateral relations with Arab countries. "In this regard, Egypt holds has a special place, as the Armenian-Egyptian relations, which originate from ancient times, have passed the test of time and resulted in lasting friendship," the head of the Armenian government said.
Prime Minister Abrahamyan congratulated the President of Egypt for high-level organization of the international forum to support and develop the economy of Egypt, which was a good platform to discuss the situation in Egypt's economy and the global economy.
Abdel Fattah el-Sisi thanked the Armenian Premier for participation in the forum and expressed the hope that the forum will help find new solutions to the existing challenges and problems.
During the meeting, the head of the Armenian government said that this year our country is marking 100 years of the Armenian Genocide and noted that Armenia expects the participation of a high-ranking delegation from Egypt in Genocide commemorations to be held in Yerevan on April 24.
The interlocutors touched upon regional issues, discussed other issues of mutual interest.