Saturday, 28 February 2015
PM Receives Kuwaiti Ambassador to Armenia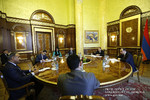 Prime Minister Hovik Abrahamyan received Ambassador Extraordinary and Plenipotentiary of the State of Kuwait Bassam Muhammad al-Qabandi. The Ambassador conveyed warm greetings on behalf of the Prime Minister of Kuwait, adding that his government is interested in the strengthening and expansion of relations with Armenia.
Hovik Abrahamyan and Bassam Muhammad al-Qabandi discussed issues related to Armenian Premier's upcoming official visit to Kuwait at the invitation of the Kuwaiti Prime Minister.

Stressing the need to further and strengthen bilateral ties in different areas, the parties discussed a number of issues related to Armenia-Kuwait relationship.