Wednesday, 25 February 2015
North-South Road Corridor, Sustainable Urban Development Investment Programs GC Holds Meeting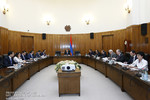 Chaired by Prime Minister Hovik Abrahamyan, the governing council of the North-South Road Corridor and Sustainable Urban Development Investment Programs met today in the Office of Government.
The Council discussed and approved the results of the competition held to select a consultant for Construction Supervision of Tranche 3 and Feasibility Study, Preliminary Design and about 60 km Detailed Design of Tranche 4, as well as the 2015 maintenance cost estimate of North-South Road Corridor Investment Program Implementing Organization SNCO.
It was reported that the concrete road surface with a total length of 31 km of Tranche 1(Yerevan-Artashat, Yerevan-Ashtarak) has already been laid. At the same time, it was reported that concrete road surface work for the 42 km-long Ashtarak-Talin Tranche 2 road section is scheduled to begin by this yearend and come to completion until 2017. At this point, preparatory work is being done.
Land alienation and resettlement program activities were said in process of development under Tranche-3 Talin-Lanjik, Lanjik-Gyumri road section.