Wednesday, 4 February 2015
Expansion of Armenia-Sweden Relationship Discussed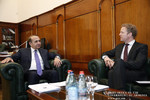 Prime Minister Hovik Abrahamyan received Kingdom of Sweden Charge d'Affaires in Armenia Marten Ehnberg.
Mindful of the need to deepen and expand bilateral ties, the Prime Minister stressed the importance of the reciprocated decisions on establishing embassies in Armenia and Sweden.

The Premier expressed confidence that the diplomatic representations' effective efforts will give new impetus to bilateral cooperation in different fields of activity.
The parties took the opportunity to discuss ways of strengthening trade and economic ties, promoting direct contacts between the business circles, implementing joint programs and a number of other issues.