Saturday, 27 December 2014
PM Meets with Public Council Members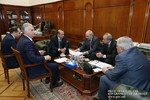 Prime Minister Hovik Abrahamyan received a Public Council delegation, led by Council Chairman Vazgen Manukyan.
The members of the Public Council gave the details of their visits to border communities, including the ones paid to Nerkin Karmiraghbyur, Aygepar, Koti and Barekamavan villages and introduced the problems and concerns voiced by the local population.

Hovik Abrahamyan stressed that border communities are kept in spotlight and his government will continue to implement various welfare programs to address their problems.

At the same time, the Prime Minister instructed the heads of relevant departments to submit recommendations aimed at resolving the existing bottlenecks as shortly as possible.