Tuesday, 9 December 2014
Prime Minister Receives Nairit Plant Workers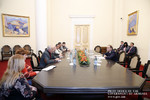 Prime Minister Hovik Abrahamyan received a group of Nairit plant workers who had been staging a protest action in front of the government building.
Taking note of the problems raised by the protesters, the Premier reassured that the Government would hold another discussion on the matter.

The head of government stressed that international experts from the World Bank are due to conduct a feasibility study on the possibility of resuming Nairit's operations. They are expected provide a finding during the coming year.
Hovik Abrahamyan said the Government is prepared to take every opportunity and the necessary steps to re-commission Nairit.