Monday, 20 October 2014
Armenia Prime Minister Meets with Iran President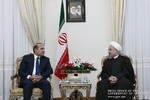 Prime Minister Hovik Abrahamyan met today with Iranian President Hassan Rouhani at the Presidency of the Islamic Republic of Iran.
The head of the Armenian government said his official visit may boost bilateral economic ties and help attract new investment.
"We, in Armenia, highly value our close good-neighborly relationship with the Islamic Republic of Iran, deeply rooted in the centuries-old friendship between our two peoples. The Armenian-Iranian relations are at a high level and continue to develop in an atmosphere of mutual trust. Most of the bilateral arrangements are being implemented, which points to both sides' firm determination to deepen friendship and business ties between our two countries," Hovik Abrahamyan noted.
Welcoming Prime Minister Hovik Abrahamyan's visit to Iran, Hassan Rouhani said it may help further Armenian-Iranian relations in a wide array of spheres. The President of Iran assured of his country's readiness to support Armenia's initiatives, as well implement new joint projects.
The need to expand exchanges in a number of areas was emphasized, including energy, agriculture and culture.
Hovik Abrahamyan noted that Armenia's membership in the Eurasian Economic Union is an opportunity for our country to assume the role of a bridge between the EEU members and foreign business communities. In this context, the Prime Minister stressed that Armenia offers an investment-friendly environment to foreign investors.

The Iranian President hailed the Armenian community for valuable contribution to his country's overall development.
The interlocutors took the time to talk about regional concerns, including the Nagorno-Karabakh peace process. Prime Minister Abrahamyan noted Armenia's strong commitment to peaceful settlement in the format proposed by the OSCE Minsk Group. The need for peaceful settlement of regional conflicts and providing regional security was emphasized on either side.
The Armenian Premier conveyed President Serzh Sargsyan's invitation for Hassan Rouhani to attend the Armenian Genocide 100th anniversary commemoration function in Yerevan on April 24, 2015. In turn, the President of Iran conveyed warm greetings to his Armenian counterpart and the people of Armenia.
Other issues of bilateral interest have been discussed during the meeting.