Monday, 20 October 2014
Hovik Abrahamyan Meets Iranian Foreign Minister in Tehran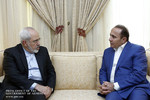 On the margins of his official visit to the Islamic Republic of Iran, Prime Minister Hovik Abrahamyan met with Iranian Foreign Minister Mohammad Zafad Zarif.
The parties discussed regional issues and bilateral cooperation. They stressed the importance of regional stability and security, as well as the need for peaceful settlement of conflicts.
Coming to Armenia's accession to the Eurasian Economic Union, the interlocutors stressed the importance of cooperation within international organizations.
The meeting agenda featured other issues of bilateral interest.