Monday, 20 October 2014
Joint Statement by RA Prime Minister Hovik Abrahamyan, IRI First Vice President Es'haq Jahangiri for MCM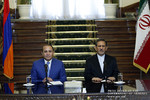 Following a tête-à-tête, Prime Minister of Armenia Hovik Abrahamyan and First Vice President of Iran Es'haq Jahangiri made a joint statement on the outcome of their private talks.
Prime Minister Abrahamyan said they had reaffirmed a reciprocated commitment to uphold the long-standing ties of friendship and expand bilateral relations in all spheres of activity.
"We discussed a wide range of issues of mutual interest, including trade and economic cooperation, infrastructure development, activation of cooperation in energy and telecommunications, expansion of tourism, strengthening of scientific, educational and cultural ties, as well as regional developments.

A special emphasis was placed on the activities of the Armenian-Iranian intergovernmental commission in the context of further convergence of bilateral relations, which is an important tool for the development of mutually beneficial trade and economic exchanges. The need for the conservation and overhaul of rich cultural and historical heritage was emphasized on either side.
I availed myself of the opportunity to thank the Iranian authorities on behalf of the Armenian leadership for continued good attitude toward the Armenian community, as well as for thoughtfulness of Armenian cultural and historical heritage. In conclusion, I can state that the talks were held in a cordial and constructive atmosphere inherent in friendly countries," Hovik Abrahamyan pointed out.

Hailing the current level of cooperation in different fields of activity, IRI First Vice President Es'haq Jahangiri said the issues to be discussed at the meeting of the Armenian-Iranian intergovernmental commission will be closely monitored by the two Heads of State in order to find speedy solutions.
"Our bilateral relations over the past decades may set a good example in the region," Es'haq Jahangiri noted.