Sunday, 21 September 2014
Prime Minister Hovik Abrahamyan's Congratulatory Message on Republic of Armenia Independence Day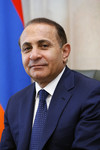 Dear Compatriots,
I congratulate all of us on the 23rd anniversary of Independence Day of our Motherland - the Republic of Armenia.
By achieving independence, the people of Armenia reaffirmed its age-old aspiration to live in freedom and peace, manage its own destiny.
In a historically short period of time, our country carried out drastic reforms in all spheres of activity, taking a well-deserved place in the global family of nations.

We are firmly determined to continue taking consistent steps to further strengthen and develop the country, enhance public welfare.
I am confident that we will achieve our national goals through the unity of all sections of our society, based on the wealth of traditions and our strong belief.
Dear Compatriots:
Congratulating you once again on the Independence Day, I wish peace and progress for our country, and happiness and prosperity for each of you.