Friday, 12 September 2014
Prime Minister Hovik Abrahamyan Extends Congratulations to Renowned Conductor Vladimir Spivakov on 70th Birth Anniversary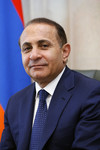 Dear Maestro,

On behalf of the Government of Armenia and myself, I am congratulating you on your 70th birth anniversary.
Through your unique talent and commitment, you managed brilliant achievements on the international music scene that might add credit to any nation.
Special respect is due to your benevolence and pedagogical activities, which are a striking example of devotion to high ideals and a source of inspiration for young musicians not only in Russia, but also far beyond its boundaries. We, in Armenia, highly appreciate your professionalism and great human virtues.
Vladimir Theodorovich, on this festive day for your family and colleagues, I am taking the opportunity to wish you robust health, new creative achievements and inexhaustible energy, which has accompanied you throughout your artistic life.