Monday, 1 September 2014
Prime Minister Hovik Abrahamyan's Knowledge Day Message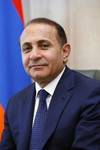 Dear schoolchildren, teachers and parents,
Dear students and faculty:
I warmly congratulate you on Knowledge and Education Day. We the Armenians have always strived for knowledge, boasting a special attitude to school and education, considering it one of the keys to survival.
Education is the pillar of society and statehood. Building an efficacious system of education is a highlight on our policy agenda. Mindful of the need to shape a knowledge-strong and well-educated society, the Government of the Republic of Armenia shall not give up its commitment to improved education and will push ahead with the ongoing educational reform.
Reiterating my congratulations on this nice holiday day, I wish you all much happiness, every success and inexhaustible energy.