Monday, 17 March 2014
Prime Minister's Cup-2014 Of "Brain-Ring" Intellectual Game Kicks Off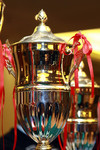 The fifth edition of the Prime Minister's Cup of "Brain-Ring" intellectual game tournament kicks off. This year's edition will involve about 150 participants representing 23 State agency teams.
The Prime Minister's Cup is organized by "Armenian Association of Experts" and "Civil Servants' Association," with the support of the Ministry of Education and Science.
The tournament seeks to encourage government officials' participation in intellectual games and is meant to propagate intellectual games in Armenia.