Monday, 24 February 2014
Tigran Sargsyan Sums Up Outcome Of Meeting With Russian Counterpart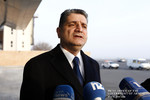 Following his meeting with Russian Premier Dmitry Medvedev, Prime Minister Tigran Sargsyan introduced some details to the news reporters. In particular, he advised that the status of Armenia's Customs Union and Common Economic Space joining roadmap activities had been discussed during the meeting.
"We traced back the actions implemented by the Armenian side. The Russian side hailed the activities of our working groups. We also discussed how Russia might help us implement the roadmap more effectively, since we need grant funds to develop appropriate infrastructure, to build up a single database and unified networks. We look forward to being assisted by our partners in these matters," the Prime Minister said.
According to Tigran Sargsyan, per-sector estimates have been made as to the resources needed to improve infrastructure. The finalized figures will be made public upon completion of the talks. Another key topic was Rosneft's investment projects in Armenia.
"We took note of Rosneft President Igor Sechin's report on the activities already completed and the actions planned. USD500mn-worth investment is scheduled under Rosneft's Armenia project. We are going to have a substantial discussion next week to see what conditions should be provided to expedite the process. Of course, the program features Nairit chemical plant, because the workers currently employed will make up the kernel of the new plant's staff," the Prime Minister advised.