Monday, 24 February 2014
PM Condoles Demise Of Renowned Armenian Scholar Grigor Gurzadyan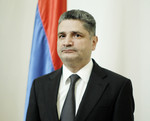 One of the greatest Armenians of our time passed away whose numerous activities went a long way toward developing scientific thought in Armenia, giving scientists and researchers the opportunity look into, analyze and evaluate his great legacy.

The highly-endowed Armenian left immense literary and artistic heritage that will be reserved a worthy place in our culture. It will open up new scientific horizons for the rising generations. Grigor Gurzadyan was more than a great scholar: he was the embodiment of an Armenian intellectual. Our nation, our society will miss his type of a man forever.
I express my deepest condolences to Grigor Gurzadyan's family, friends, colleagues, disciples and the admirers of his talent. May God bless and glorify his soul.