Tuesday, 22 October 2013
Karen Durgaryan Gets Premier's Commemorative Medal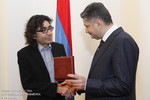 For significant contribution to music art and promotion of Armenian culture, chief conductor of the National Academic Opera and Ballet Theater after Alexander Spendiaryan, Honored Artist of the Republic of Armenia Karen Durgaryan was awarded with the Prime Minister's commemorative medal.
The award was handed in by the Prime Minister himself. Tigran Sargsyan congratulated the renowned conductor on his many achievements and wished him every success.
Directed by Karen Durgaryan, earlier this year, the National Academic Opera and Ballet Theater after A. Spendiaryan participated with great success in the "Stars of the White Nights" festival at the Mariinsky Theater in St. Petersburg. As a result, the Company was invited to take part in the following edition of the festival due next May.

Medieval Armenian music, as well as Aram Khachaturian's "Gayane" ballet will be presented under the direction of Karen Durgaryan.