Tuesday, 22 October 2013
Tigran Sargsyan Sends Condolence Message To Dmitry Medvedev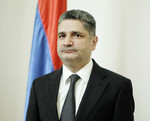 Prime Minister Tigran Sargsyan sent a condolence message to Head of RF Government Dmitry Medvedev in connection with the act of terrorism in Volgograd that took the lives of several innocent people.
The message reads, in part:
"Dear Dmitry Anatolyevich,
On behalf of the Government of the Republic of Armenia and myself, I extend deep condolences on the tragic loss of innocent lives due to the terrorist attack committed on October 21 in Volgograd.
Condemning any manifestation of terrorism, we express our support for the Government of the Russian Federation and the people of Russia.
Please convey our words of comfort and sympathy to the families of the slain, wishing speedy recovery for those injured in that inhuman act of violence."