Wednesday, 21 August 2013
Prime Minister Tigran Sargsyan's Congratulatory Message On Birthday Of Catholicos Of All Armenians Garegin II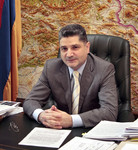 Your Holiness,
On behalf of the Government of the Republic of Armenia and myself, I congratulate you on your birthday.
I hope that strong with great wisdom, you may lead the faithful people of Armenia for many years to come.

I am sure that your tenure will be marked by an extensive church-building effort, strengthened ties between the Armenian Apostolic Church and the Armenian Army, as well as furthered Church-Diaspora linkages.
I have no doubt that you will succeed in all those initiatives aimed at enhancing the role of our Church and strengthening the State. You may rest assured that either the secular authorities will be supportive of your God-pleasing undertakings.
Holiness,
Reiterating my felicitations, I wish you good health and long life so that you could carry on your noble mission to the benefit of our compatriots living in Armenia, Artsakh and the Diaspora.