Tuesday, 15 January 2013
Prime Minister's Word of Condolence on the Death of Vladimir Abajyan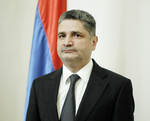 With deep sorrow I found out about the death of ASSR People's Artist Vladimir Abajyan. One of the greatest artists of theatre, film and national recitation, whose roles in cinema, theatre and radio performances will forever remain in our memories, died at the age of 86.
In this time of sorrow, I express my condolences and wish spiritual endurance to the great master's family members, relatives, colleagues and thousands of fans.

***
A government commission was created on the occasion of Vladimir Abajyan's death, headed by Prime Minister Tigran Sargsyan.