Friday, 14 September 2012
PM Tigran Sargsyan's Congratulatory Message to the Russian Prime Minister Dmitry Medvedev on His Birth Anniversary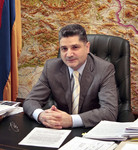 Honorable Dmitry Medvedev,
On behalf of the Government of the Republic of Armenia and myself, I cordially congratulate you on the occasion of your birthday. I wish you and your family peace, happiness and good health. I wish you productive activities and new achievements for the benefit of Russia and the Russian people.
I am confident that our joint efforts directed to the further integration of the economies of Russia and Armenia will lead to substantial results, transmitting new content to the strategic partnership between our two countries.
Accept my congratulations and best wishes for your success in your responsible work.