Friday, 27 January 2012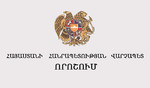 By Prime Minister Tigran Sargsyan's decision, Alexan Karapetyan was appointed Deputy Minister of Urban Development of the Republic of Armenia.
***
Alexan Karapetyan was born in 1950 in Yerevan. He studied at Aghayan secondary school. He graduated from the Technical Automation and Telecommunications faculty of Electronic Computers College and continued his studies at Yerevan Polytechnic Institute's Engineering Department. In 1985-1989, He studied at the CPSU Central Committee party high school and graduated with political scientist's qualification.
1974-197, he worked at the Engineering Chair of the Polytechnic Institute as a senior laboratory assistant. In the period from 1976 to 1980, he was elected and served as second and first secretary of the 14-strong Komsomol organization of the Yerevan Polytechnic Institute. In 1980-1985, he was second and first secretary of Armenia's largest (10 thousand-strong) construction organization - Yerevanshin industrial-construction unit. In 1985 -1990, he served as instructor at the Communist Party Central Committee's Construction and Urban Development Unit. In 1988 – 1989, he participated in rescue activities following the Spitak earthquake.
1991-1992 - In "Prometheus - Andrnavtgazshin" joint-stock company as of.. 1992-1995. In "Kaghshin" installation unit and commercial center as a deputy director, 1995-1996. the "CC and K" company President, 1996-1997 of the Armenian-Bulgarian "Armbolinvest" joint venture subsidiary.
"National Unity" party founders, II and III of the National Assembly deputy since 2003, the NATO Parliamentary Assembly and in Inter-Parliamentary Union delegation to the National Assembly, a member of the National Assembly of Armenia-Bulgaria Parliamentary Friendship Group of Business and Parliament Association's Office for the Coordination of international, global organization of Parliamentarians Against Corruption (GOPAC), member of Armenian National Chapter.