Thursday, 19 January 2012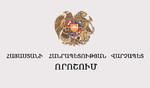 By Prime Minister Tigran Sargsyan's decision, Varazdat Karapetyan was relieved of the office of Adviser to Prime Minister with a view to moving to another position. As a result of the January 17 sitting of SME DSC Board of Trustees, Mr. Karapetyan was appointed to be Executive Director of Small and Medium Enterprise Development National Center Foundation.

***
Varazdat Karapetyan was born in 1974 in Sevan town of Gegharkunik marz. He graduated from Yerevan State University, Department of International Economic Relations, and then continued his studies at Moscow Lomonosov State University. In 1995-1996, first he was expert at the Economic Research and Balance of Payments Analysis Division of the Monetary Policy Department of the Central Bank of the Republic of Armenia, then assistant to CBA chairman. In 1996-1997, he was financial director of Moscow "MIR-Na-Zemle" LLC. In 1997-1999, mr. Karapetyan worked as financial director of Moscow "Techno-AS" LLC.
In 1999-2000, he held the position of head of Gavar local treasury department of RA Ministry of Finance and Economy.

In 2000-2002, he took up the post of Armagrobank CJSC Gavar branch governor. Starting from 2003, he was consultant to Gegharkunik Marz Chamber of Commerce. Mr. Karapetyan is the coordinator of Efficient Business program. In 2011-2012 he was Adviser to Prime Minister of the Republic of Armenia.

In his capacity of Candidate of Economic Sciences, Varazdat Karapetyan has defended a thesis, authored five scientific articles and five research papers.
He is non-party.