Friday, 30 December 2011
Prime Minister Tigran Sargsyan's Congratulations On New Year And Christmas Holidays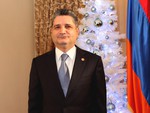 Dear compatriots,
One more year is up and we are turning another page of history. What are the past year's historical events which we can be proud of and which ones can teach a lesson to safeduard us against future mistakes?

I am convinced that each of us is worried about these issues as the running year is nearing completion..
2011 can be considered as a year of recovery from the global crisis. We came out ever stronger and better prepared to face new challenges: It is due to our joint efforts that we were able to provide economic growth.
We built more roads and watermains in 2011.

We supported our entrepreneurs in a bid to improve the business environment.
We lent a helping hand to our farmers as we sought to develop agriculture.
In an effort to promote information technologies, we provided enhanced web access for the population, we tried hard to raise the living standards of vulnerable households, elderly and disabled persons.

Pre-school education became free of charge, the health sector grew more transparent. Numerous school buidings and hospitals were renovated, new housing was built in the disaster zone.
This is not enough, of course. We, the citizens of Armenia, can live better and we deserve a better life. This means we will have more to do in 2012. Each of us should try harder with a greater sense of responsibility.
Dear compatriots,
We need to change our behavior, which is as much important in terms of expectations.
We must learn to live anew, in a world where justice is determined not only by laws, but first of all, everybody's behavior.
Only through joint efforts we can make our dreams come true and build a country fit for repatriation.

Fellow countrymen,
Extending to you my season's congratulations, I wish you all peace and health, family love and care. Let the farmers be blessed with abundant crops and the town swellers – with productive and interesting work. I wish more joy and smile for our children and dignified old age for the elderly.
Happy New Year and Merry Christmas!
God save us!