Monday, 19 December 2011
Outstanding Athletes Get Money Awards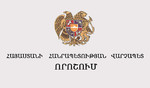 By Prime Minister Tigran Sargsyan;s decision, 106 Armenian athletes with outstanding achievements in 2011 World and European Championships, their coaches (personal trainers, senior and second coaches), as well as their doctors and organizations have been awarded cash prizes.
Among recipient athletes: weightlifter, European Championship runner Araik Mirzoyan, winner of silver medal at women's European championship in weightlifting Hripsime Khurshudyan, Greco-Roman World Champion Roman Amoyan, third world medalist Arsen Julfalakyan, European Cup bronze medalist Yuri Patrikeev, world youth champions Narek Khachatryan and Rafik Manukyan, third winner of the European championship in gymnastics Haroutune Merdinyan.
Cash prizes have also been made available to members of the Armenian national team winner of the World Chess Cup: Levon Aronyan, Sergey Movsesyan, Vladimir Akopyan, Robert Hovhannisyan, Gabriel Sargsyan, U-18 World Chess Cup winner Samvel Ter-Sahakyan, as well as representatives of other events.