Thursday, 30 December 2010
Republic of Armenia Prime Minister Tigran Sargsyan's introductory remarks at cabinet sitting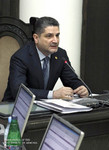 Dear colleagues,
Today we have come together for this year's last 51st cabinet sitting, and I would like to sum up the key economic indicators of 2010 and the result of the work done by us.
First of all, we should note that as the President of the Republic said at a meeting with businessmen the post-crisis world will qualitatively differ from pre-crisis one, and the new economic paradigm will be henceforth based on other engines of economic growth. It is likewise true for the economy of the Republic of Armenia because as evidenced in 2009-2010, growth is ensured through economic diversification rather than due to construction or agriculture. Therefore industry, modern technologies and information technologies will be the chief driving force behind development.
The results of 2010 testify to it: the year will be completed with about 2.6% growth instead of the planned 1.2 %. The stated growth was generated against a background of 14.5% decline in agriculture, some 4 % fall in construction. Industry and infrastructures proved to be the key factor behind the growth. This will be the basic trend of development in 2011-2012 as economic diversification was the focus of our anti-crisis program.
The next feature of 2010 was that we attached great value to infrastructures, and the bulk of government investment was carried out in infrastructures. It was typical of 2009 when we implemented civil works of unprecedented volume in the spheres of road construction, irrigation and drinking water. We kept up the same tendency in 2010. In particular, it should be noted here that we have constructed 350 km roads by using both State and external resources. 8 bridges have been repaired. We allocated resources from the reserve fund to restore 44 damaged road sections. In 2010, Armenian railways made investments to a total sum of AMD 12 billion leading to 2.6 % and 49% increase in commodity and passenger traffic respectively.

We had significant achievements in the sphere of information technologies. Note in particular the coverage of Armenia's territory with 3G standard: for the first time the 4G standard of communication technologies is involved in Armenia, and in this respect, Armenia is the first one among the CIS countries. It is also included in the list of top 10 countries of the world to have tested the 4G standard. It is extremely important that in 2010 the retail tariff for the high-speed Internet decreased from 15 thousand drams to 8 thousand for 1 Megabit. This is a key achievement which creates a favorable environment for the development of information technologies. The number of our Internet users has gone up twice. Now we have some 173 thousand such users in the country and if we add those using dial-up means of telecommunication, we will have over 1.5 million users altogether. And it is extremely important that either wholesale prices have recorded a twofold decrease for the Internet.
The above means that in 2011 we will have a more favorable environment for the development of information technologies in Armenia which has been a priority for the Government.
The commissioning of the combined cycle power unit of the Yerevan TPP was the most important event in sphere of energy. Thereby, we have achieved greater efficiency in the production of electricity. Due to this, we managed to keep down the tariffs for electric power all he way through 2010. Another serious achievement in 2010 was the introduction of the SCADA system of communications and management. Together with the Japanese partners, we were able to restore 17 of our 110kV substations leading to considerable rise in power system stability.
It is likewise important that we have declared the startup of the construction of a third Iran-Armenia 400kV high-voltage transmission line, which means that for the next several years the energy sphere will be one of economic driving forces in Armenia.
You may be aware that at our latest meeting we approved a business program for the construction of an NPP. The program had been substantiated in detail by the operator and met all the needed criteria.

The most serious fall was recorded in agriculture which influenced largely our macroeconomic indicators. Otherwise the economic growth might be higher than 2.6 %, but unfortunately we faced adverse natural-climatic conditions in 2010 which had a serious impact on macroeconomic stability negatively affecting the index of inflation, and we have today high enough 9.4 % inflation.
This index proved much higher in Armenia than in the neighboring countries because our country was blessed with quite low inflation during the pre-crisis period that remained below the mark of exceed 3 %. Despite it, for the first time we began implementing a seed-growing program in agriculture. High-quality seeds were imported from the Russian Federation. We have hundreds of new partners and beneficiaries with whom corresponding contracts are in place for the delivery of seeds. In 2011, we shall have a seed return to the rate of 1:2 that will help increase our stocks and overall productivity in this sphere.
At the same time, 262 pedigree young cows have been imported into Armenia to raise the total number to 1200 pieces, 14 new breeding facilities have received more than 1100 heads of breeding young growth.
An important index is that in 2010 we exported 170 thousand heads of sheep against 142 thousand in 2009. While 2009 seemed to be a record year, our farming sector is getting increasingly specialized in this field, and our export capacity is due grow from year to year. We also boasted a serious achievement in the exports of fresh and frozen fish in 2010.

First of all, it is due to the fact that we reached a number of arrangements with the Russian Federation leading to certification of our fish products which allowed us to export 400 tons of fish. We will have twice this figure next year. For the first time again, we approved a program of manufacture of Azotovit-1 organic bio-fertilizer as a result the import of fertilizers will decline, and we will turn into an exporting country within 3 years.
FREDA venture fund participated in the capital of 6 companies. This is a new initiative which seeks to support farm produce processing entities in the Republic of Armenia.

As you remember, this year we passed a package of decisions essentially lowering pasture fees for our farmers. Due to simplified procedures, they can now conclude lease contracts with communities and this is also aimed at developing the home agriculture.
Healthcare is the next sphere where we had tangible progress. In 2010, we modernized and put into operation 8 regional medical centers. It is important that 10 outpatient clinics were repaired and some 20 community clinics were modernized. As a whole, the healthcare sector saw USD 17 million worth of investment programs implemented with the assistance of international organizations. Medical equipment was imported into Armenia to the sum of 4.4 million US dollars.
Important changes in terms of economic diversification took place in the real sector. In 2010, we launched a major program on the basis of the research laboratory after A. Alikhanyan: The government of Belgium provided 5 million euro for the purchase of a state-of-the-art cyclotron, expected to promote growth in this area, too,
The "Computer for All" program is underway enabling us to supply 15 thousand computers this year alone. "National Instruments" company has launched a project in Gyumri providing services to the private sector on the one hand, and cooperating with higher educational institutions, on the other.

Together with the National Competitiveness Fund, we completed the project of Tatev tourist complex investing 32 million US dollars of which 14 million from the treasury. Thanks to privileges available for import of equipment worth of over 300 million drams, 6 companies imported equipment to a total value of 15 billion drams, with 1000 new jobs generated owing to these companies alone. 11 companies took advantage of the VAT holiday granted under an investment program costing 29 billion drams.
Several new companies started operations including the Glass World Company, a UK-based investment entity which carried out 30 million euro worth of investments giving rise to some 500 jobs and enabling a huge export potential. Ler-Ex Ltd was functionalized in Syunik marz which will process 150 thousand tons of mineral ore a year. Ararat Group opened a new factory of mineral waters in Artashat to the cost of 27 million dollars generating 400 new jobs.
Akhurian's sugar factory was commissioned which will not only meet the demand of Armenian consumers, but will create a big export potential. The Firestone Diamond Indian company created 120 new jobs this year. Serious investments were made in diamond processing industry. Contracts have been signed with Russian rough diamond suppliers.

Important was the opening the Armenian-German "Elbat" company which will manufacture batteries in Armenia. It was quite a sizeable project in terms of export potential. These initiatives will continue in 2011 since as noted above, we have granted serious privileges to equipment importers this year.

We passed several key decisions during the past quarter to improve the business environment by reducing the frequency of tax payments and the number of taxpayer statements.
We narrowed the scope licensing procedures twofold with corresponding legislation enacted by the National Assembly. The amounts paid by our citizens on the customs points via express delivery were reduced from 150 thousand drams to 50 thousand drams.
The bulk of urban development activities were carried out in the disaster zone. 1056 apartments were commissioned in Gyumri. Our citizens got 220 private houses in Spitak and 303 houses in Lori. This program will be completed in 2011. About AMD 24 billion is projected as investment under this program. AMD 5.3 billion was allocated from the State budget to build and repair 154 facilities.

Unprecedented was the level of investments in territorial management and water management: with 901 km-long pipelines built and replaced in the period under review, of which 697 km drinking water-mains. For the first time, we started making investments in five cities for sewerage restoration purposes - 23 km and irrigation canals - 181 km. 18 new regulatory water reservoirs were built, including the Norabats reservoir with 2000 cubic meter daily capacity that helped improve water supply for 12 villages.
Under an emergency irrigation system rehabilitation program, we were able to restore 24 km-long canals in Armavir marz and over 43 kilometers in Talin. 26 pumping stations were constructed and reconstructed. Activities covering 346 km were implemented in the drainage system.

This year AMD 590bn in tax revenue will be injected into the treasury that is AMD 20bn over the target. Compared to 2009, tax receipts are up by AMD 72bn or 14 %.
Similar growth is expected in the system of welfare payments where the annual target was overrun by 2.5 %. A landmark achievement is that 4200 economic entities started submitting their tax returns online.
In the system of emergency situations, we got 28 pieces of fire-engines. 28 radio-modem-operated gas-producing facilities were created in Ararat marz taking up to 48 the total number of such facilities installed in 2010.

There is also what to boast of in the systems of nature protection, sport and youth affairs. Our athletes rejoiced us with new achievements and medals.
Important was the "Affordable housing for young families" program. We took down the interest rate to 7 % in the provinces and to 9 % in Yerevan. As a result, we are looking forward to increased number of beneficiaries in 2011.

A major task was addressed in the social sphere. Not only did the State completely meet its social commitments of 2010, but it also managed to raise benefits by 15.6 %. As of last November 1, 11 % rise was recorded in the pensions of war veterans. 2416 Great Patriotic War veterans got AMD 545mn refund of savings with the former SU Savings Bank.

As to education and science, preschool age children were offered preschool establishments in 41 communities. 43 newly built high schools took up the total number of such schools to 91. 37 different textbooks, 12 manuals for teachers, 12 higher school textbooks and other manuals have been published.
We are happy that several schoolchildren have participated in 7 international Olympiads winning 7 medals. Thanks to Luys Foundation and under interstate contracts, 296 Armenian youth may get higher education abroad. 76 more students are studying in the top ten universities of the world. For the first time, in cooperation with the Georgian Ministry of Education and Science, we provided training to 100 Armenian teachers. The Internet came into 300 schools. Now the Internet is available in some 1000 schools of Armenia. All the Armenian schools will be provided Internet access in 2011.
As compared to 2009, we enjoyed a nearly 11% increase in the number of passengers. Important is that passenger traffic was up 2.3 times at Shirak airport.
There are serious achievements in the sphere of culture. I would like to note that UNESCO has declared Yerevan as the world capital of book in 2012. The Armenian art of cross-stones is included in the list of intangible cultural heritage of UNESCO.
A remarkable cultural event was the first performance of "Aida" at the National Academic Opera and Ballet Theater, held under the high patronage of the President of Armenia. A highly significant cultural event was the installation of 2 frescoes by Minas Avetisyan in the House of Government. This process will continue since we have received several bids from the private sector regarding the preservation of Minas's artistic heritage.

Significant achievements were recorded in the overall financial sector.

The banking system wrapped up the year with AMD 30bn profit against the 8 billion dram of 2009. This means that the financial system will enjoy a serious stabilization resource in 2011. It is extremely important that lending interest rates went down in Armenia in 2010, and credits became accessible to domestic entities. The overall level of crediting increased as compared to 2009 by about 138 billion drams, which means that next year economic entities will have an exclusive opportunity for using borrowed funds. Banks have sufficient financial assets, and interest rates will be lower than in 2010.
As to the macroeconomic indicators, we have fully met the targets set for the budget. We overran the revenue side and managed savings in the expenditure side. The deficit will be below the projections. We shall have a minimum of AMD 30mn consolidated account balance by yearend, with nearly AMD 46bn left with the Central Bank's Stabilization Fund. These reserves will ensure a better macro-environment for budget expenditures in 2011. It is a good precondition for us to provide for budget performance in 2011.
As a whole, 2010 was full of hardships and challenges. So will be the new year of 2011. We have planned a 4.6% index of economic growth. Considering the adversity of natural and climatic conditions, the main focus will be placed on the aforementioned spheres: industry, infrastructures, tourism, modern technologies and information technologies. Further investment into these areas shall provide for a higher level of economic diversification.

Today we shall take up those tasks left incomplete in 2010. We shall try to understand the reasons behind it, as well as to see what additional efforts we will have to make so that the approved priority tasks are met in 2011.