Thursday, 30 December 2010
Prime Minister Tigran Sargsyan's Congratulatory Message on New Year and Christmas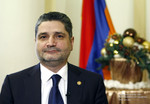 View the video
Dear Compatriots,
The year 2010 is ending. It was characterized by hard work aimed at coping with the aftermath of the global financial and economic crisis. Despite the multitude of internal and external challenges, we managed a breakthrough growth in economy. We were able to honor the State's social commitments in full and extend the scope of infrastructure development-targeted efforts.
Tangible progress was stated in information technologies, tourism, investments and export incentives. 2010 also stood out by numerous scientific, cultural and sporting achievements. E-governance and the process of online services for the citizens were raised to a new qualitative level.
Notwithstanding the regrettable decline in agriculture, the government managed to implement the seed-breeding development program and launch the phytosanitary reform. It is my firm belief that our efforts will bring about visible changes in 2011-2012.
Dear compatriots, not only are we entering a new year, we are also embarking upon a new decade. Challenging reforms await us in 2011 that will make us reconsider our behavior.
Those reforms will not succeed unless we are blessed with wide public support and collaboration. I am convinced that the way to a better and powerful Armenia of our dream lies across the path of reform. The Season's holidays symbolize hope and kindness, warmth and care to all of us, and we usher in the New Year with confidence and firm determination to do our utmost for the benefit of the nation.
I wish peace, solidarity and love to every single Armenian household in the New Year.
May God keep safe all of us!
Happy New Year and Merry Christmas!