Saturday, 10 April 2010
Ever expanding interaction between the governments of Armenia and Artsakh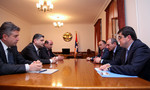 In conclusion of the first day of its working visit to the NKR, the Prime Minister Tigran Sargsyan-led government delegation was received by NKR President Bako Sahakyan.
A broad range of bilateral cooperation-related questions were discussed during the meeting.
The parties said to be pleased with the current level of cooperation between the two governments which was said to be a key precondition of successful implementation of planned activities.
At the same time, the need for steadily strengthened interaction and expanded economic ties between Armenia's marzes and NKR regions was emphasized on either side.