Wednesday, 29 July 2009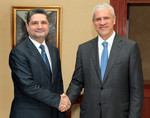 RA Prime Minister Tigran Sargsyan had a breakfast-meeting with President of the Republic of Serbia Boris Tadich at the venue of his residence in Yerevan.
A bilateral relationship-related agenda has been discussed. Speaking about the need for strengthening government-to-government ties, the parties stressed the importance of direct contacts between decision-makers and business circles. Agriculture and the farm produce processing sector were said to be among the most prospective areas for cooperation. The interlocutors agreed in that the centuries-old Armenian-Serbian friendship and boosted cultural exchanges may provide a sound basis for upgrading relations between the two countries.
The meeting was marked by an atmosphere of warmth and friendship.