Tuesday, 21 July 2009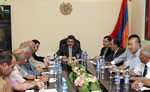 RA Prime Minister Tigran Sargsyan visited Aspar Wild Tour travel agency, which since 2006 has been organizing guided tours to sights in Armenia and in Karabakh trying to expand its range of services in a modern light.

Prime Minister Tigran Sargsyan noted that Aspar Wild Tour's activities are in full accord with the Government's focus on the development of tourism at home and expressed hope that they will be realized successfully in case of effective cooperation. Tigran Sargsyan emphasized that in an effort to back domestic tour operators, the Government has came up with a series of proposals during the year, aimed at developing tourism in the Republic of Armenia and in the NKR.

After viewing a fact-finding film on the sights of the NKR, the head of the Armenian government had an interview with the representatives of travel agencies. With reference to the Low-cost holiday and tours in Artsakh package, presented last July 8 in the Office of Government, Tigran Sargsyan expressed appreciation of sector representatives' 3-day fact-finding visit to the Nagorno-Karabakh Republic by stressing that it helped trace out the existing problems and identify prospects for development.

In conclusion, the Prime Minister pointed out the need for conducting a comprehensive research into this sphere through close teamwork between large enterprises and travel agencies and, in this context, highlighted the role of continued government-travel agencies dialog.