Tuesday, 7 July 2009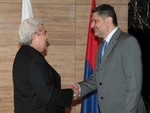 At the place of residence of the, RA Prime Minister Tigran Sargsyan had a breakfast meeting with President of the Republic of Cyprus Demetrios Xristofias at his place of residence in Yerevan.
Questions concerning the development of bilateral relations and activation of a multifaceted cooperation potential inclusive of economy, culture and tourism were discussed, in particular.

The head of the Armenian government said to be highly appreciative of the Cyprian side's readiness to assist our country in the context of EU-Armenia regional cooperation.

The meeting was marked by an atmosphere of warmth and friendship.