Saturday, 27 June 2009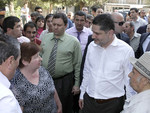 Under a working visit to Syunik marz, RA Prime Minister Tigran Sargsyan called at the Agarak copper and molybdenum plant. In Agarak, the Prime Minister first met with the local population to get a first-hand view of the exciting problems. Then a consultative meeting was held with the executives of the plant.
Answering the journalists' questions after the meeting, Tigran Sargsyan said that the loan of USD 14 million as extended to the plant by a government decree will help boost activities in the long run. It is crucial from two perspectives: economic and social. As to the economic aspect, it will finance the purchase of new equipment and increase productivity. As to the social aspect, firstly, citizens were right to complain of wage arrears. In this connection, the management has assured us that no further arrears will be accumulated after loan disbursement. Secondly, the new equipment will increase work efficiency, and the plant will get a competitive edge in the long run," the Prime Minister said. He noted that an arrangement had been reached between the Government and the management of the plant that the level of staffing will not be allowed below 900 amid crisis. Today the management re-confirmed this arrangement. According to head of the government, thanks to the loan, the administration will be able to pay off the debt in full. The management promised that the May and June arrears will soon be completely repaid. The plant is scheduled to resume operations from this July the 1st.
Armenian Molybdenum Production Ltd and Zangezur Mining Ltd will get USD 15 million in loan proceeds each. The Prime Minister indicated that the credit will be used to develop such infrastructures as may promote growth in exports and reduce the cost price. The State may rest assured that the loan will be repaid as production capacity and the new equipment is pledged under the loan. "This means that first of all we safeguard our financial assets against losses and, on the other hand, we create favorable conditions for borrowing enterprises to keep up with competition and increase exports amid crisis," the Prime Minister said.