Monday, 18 May 2009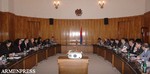 RA Prime Minister Tigran Sargsyan received IMF Armenia representative Nienke Oomes and IMF Armenia mission head Mark Lewis.
The Prime Minister said to be appreciative of the outcome of bilateral cooperation and thanked the mission for fruitful efforts. As Tigran Sargsyan said, the study conducted by the mission may help the IMF see more clearly the reasons behind and the ways out of the global crisis.
The IMF representatives reiterated the Fund's readiness to assist the Government with its anti-crisis program as much as possible.