Monday, 11 May 2009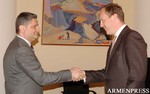 RA Prime Minister Tigran Sargsyan received Charles Lonsdale, Ambassador Extraordinary and Plenipotentiary of the United Kingdom of Great Britain and Northern Ireland, and British Council's Armenia Office Director Arevik Saribekyan.
Ambassador Charles Lonsdale presented the EU Skills program, co-financed by British Council's Armenia Office and the British Embassy in Armenia, seeking to exchange know-how and improve European integration-related skills among public sector officers. The program is implemented simultaneously in all 3 South Caucasian countries – Armenia, Azerbaijan, Georgia - and is aimed at ensuring compliance with the obligations assumed under the European Neighborhood Policy. The program start-up will be followed by a needs assessment stage for which the British side expects to be supported by the government of Armenia.

Prime Minister Tigran Sargsyan noted that the program is very interesting with its well selected targets.
The program features training provided by corresponding experts invited from Europe inclusive of the United Kingdom. In line with a preliminary arrangement reached with stakeholder representatives, priority will be given to public governance, report drafting, monitoring and evaluation skills, as well as to public relations and media management.