Tuesday, 5 May 2009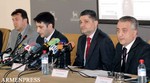 RA Prime Minister Tigran Sargsyan attended a gala event held in Erebuni-Plaza hotel complex to nominate the winners of "I am overcoming the crisis" contest, co-hosted by the GoA, the CBA and Mediamax news agency.
Congratulating the participants and the winners of the contest, the Prime Minister stressed the importance similar initiatives which are in harmony with the government's programs insofar as they are meant to encourage research and study among the youth.
"This is crucial considering that the 21st century will be that of intellectual activity. Only those nations with strong intellectual potential, analyzing aptitudes, love of research will be blessed with a competitive edge. This initiative of Mediamax is just meant to provide similar incentives enabling young people to share the outcome of their studies and submit their vision of today's world. Indeed, we would like this initiative to be continued in order as many young people as possible prove desirous of getting engaged in scientific research. I feel this undertaking may provide such incentives and, supported by the State, other partners from the private sector, too, will come up with similar initiatives," the Prime Minister said.