Wednesday, 22 April 2009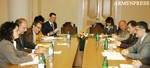 RA Prime Minister Tigran Sargsyan received head of the World Bank Armenia office Aristomene Varudakis and head of the World Bank development policy credit program mission, senior economist for Armenia Robert Talierso.
Presenting the activities on the Bank's 3-year lending program for Armenia, Mr. Varudakis said that thanks to effective cooperation with the ministries of economy and finance, work on the mutually agreed paper is nearing completion. Along with the evaluation of Armenia's macroeconomic position, the head of the World Bank mission highlighted the assessment of a comprehensive budget framework stressing that it should be focused on the protection of the vulnerable and the lowering of poverty level. He also presented the mission's proposals on the matter.
Prime Minister Tigran Sargsyan gave information on the planned and ongoing steps of his government and expressed satisfaction at the agreement reached between the two sides.
The parties said to be hopeful that upon successful completion of the activities by the end of this May, the mutually agreed paper on the 3-year lending program will be submitted to the Board of Directors as shortly as possible.