Friday, 17 April 2009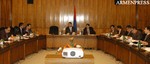 The Governing Council of Millenium Challenge Account-Armenia SNCO met at the Office of Government, presided at by GC Chairman, RA Prime Minister Tigran Sargsyan. In attendance were the heads of irrigation project design entities.
The Council took note of a progress report concerning the Infrastructure Activity of Irrigated Agriculture Project of MCA-Armenia Program. Chief Executive Director of MCA-Armenia SNCO Ara Hovsepyan noted that the Infrastructure Activity features 5 sub-components: construction of 6 main channels, 17 pump stations and tertiary canals, rehabilitation of the drainage system and 7 gravity systems in Ararat valley. According to the report, the first package of design work on restoration of 6 main channels (in Artashat, Lower Hrazdan, Armavir, Arzni-Shamiram, Talin and Shirak) was approved in October, 2008. The second package projects are scheduled for completion by this June. Civil works under the first package have started in January, 2009 and will be completed in May, 2010. Paving activities will be carried out for a 4.2km-long section of the Arzni-Shamiram water-main. About 260 modules will be restored along the specified 6 main canals. During the irrigation campaign rehabilitation work will be continued for a total of 80 damaged bridges and drainage systems. According to Ara Hovsepyan, in anticipation of the upcoming irrigation season, up to 200m-long main canal sections will be restored with the use of experimental technologies, a pilot water regulating facility in Artashat town will be completed to provide for sustained water level in the water-main and improve water-taking conditions for an irrigated area of about 1150 hectares. Under the first package, similar regulators also will be built in Armavir, Lower Hrazdan and Talin. Works will begin from May of this year on specification of frameworks of the second package of restoration of 6 main channels and design of tender papers for implementation paving activities on canal sections of about 33 km length. Also, sand traps will be restored in Armavir and Talin towns. Corresponding civil works will be conducted from November, 2009 through to June, 2011.
Concerning the course of realization of another sub-component, it was mentioned that in December, 2007, development activities have started for the design of 7 gravity systems (Meghri, Aygezard, Halavar, Spitak, Shenik, Mantash and Vardenis), restoration of 17 pump stations and will be approved for implementation by late this April. Civil work will begin accordingly in July and August - September to be completed by June, 2011. Works are underway since last March on the design of drainage system rehabilitation activities in Ararat valley, due to be completed by this November. Civil work will begin in February, 2010 and will come an end in June, 2011. The report says tertiary canal rehabilitation design work is underway currently in 27 communities with a total of 70 km-long canal sections. Civil work is scheduled to start this September due for completion in the autumn of 2010. The order for a second task is off to the designer. It covers tertiary canal sections for a total length of 122 km in about 45 communities of Armenia. Design work is planned for completion by this October, with construction activities due to be launched in January, 2010. The order for the third task will be developed and submitted to the designer during this July. Ara Hovsepyan also reported back the problems and the risks faced during implementation activities.

The Council members and the heads of design organizations presented their comments and recommendations regarding said activities.

Also, the meeting approved the amended procurement plan and the list of those banks and lending organizations accredited under From-Water-to-Market Activity of Irrigated Agriculture Project. The Council has similarly endorsed the draft contracts on involvement of foreign experts for preparation of tender papers in the frame of the Infrastructure Activity of Irrigated Agriculture Project, as well as the amendments to the contract on realization of building activities for six main channels (first package), as well as design and control activities for tertiary canal construction.