Friday, 17 April 2009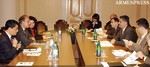 RA Prime Minister Tigran Sargsyan received Head of the World Bank Armenia Office Aristomene Varudakis and Country Support Strategy mission coordinator Samia Mitra.
Pleased with the current level of World Bank-Armenia cooperation, the Prime Minister pointed out that the program on the use of USD 50 million out of the World Bank-allocated USD 85 million-worth of loan for supporting medium-size enterprise is gathering momentum. Tigran Sargsyan said to be confident that other joint programs, too, will be carried out successfully.
Aristomene Varudakis noted in turn that the 4-year bilateral cooperation program has started quite successfully. He outlined the draft strategy of country support program for Armenia which as agreed will be submitted to the World Bank Board of Directors for approval. Aristomene Varudakis advised that under this promptly drafted paper, which has been agreed with the RA Ministry of Finance, USD 20 million will be allocated to Armenia in addition to the already agreed 525 million dollars. The head of the World Bank Armenia Office made a point of harmonizing the country support strategy-specified activities with the GoA-formulated programs with a special focus placed on the social sector and the creation of new jobs in particular.
Prime Minister Tigran Sargsyan noted that the Armenian ministers of finance and economy have already endorsed the draft support strategy. What matters most now is to have the strategy approved by the Bank so as to proceed to the practicalities as soon as possible. According to the Prime Minister, this will second the Government in its anti-crisis efforts.
Aristomene Varudakis and Samia Mitra expressed readiness to cooperate with such donor countries and international organizations as are prepared to provide Armenia with support lending.