Thursday, 5 March 2009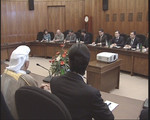 RA Prime Minister Tigran Sargsyan received a delegation led by UAE Foreign Trade Minister Sheikh Lubnou bin Haled al Kasimi.
Greeting the guests, the Prime Minister expressed hope that the visit of such an important delegation, headed by the Minister of Foreign Trade will give a new stimulus to the development of bilateral relations. Tigran Sargsyan said to be aware of those meetings and discussions the delegation had with the representatives of corresponding ministries and government departments of Armenia and went on to assure that his government is prepared to possibly promote the development and implementation of joint programs to the mutual benefit.
Sheikh al Kasimi emphasized that his delegation which comprises entrepreneurs from three different Emirates is very much impressed with the opportunities available in Armenia in respect of economic development, and expressed readiness for cooperation and realization of investments in most various spheres. The UAE Foreign Trade Minister further noted that the program package which the delegation is taking away with itself will be discussed with the representatives of business circles. Then Sheikh Al Kasimi briefed the Prime Minister on the steps underway in his country to get over the global financial and an economic crisis.
Power engineering inclusive of alternative energy, in particular, high technologies, agriculture, banking and tourism were mentioned among the most prospective areas of cooperation. Tigran Sargsyan noted that cooperation in the spheres of economy, trade, science, education, culture and in other areas will be fostered significantly by the establishment of an Armenia-UAE intergovernmental commission.
The Prime Minister took the opportunity to extend an invitation to UAE Prime Minister Sheikh Mohammad bin Rasheed Al Maktumi to visit Armenia at any convenient for him time.