Wednesday, 21 January 2009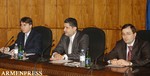 RA Prime Minister Tigran Sargsyan keeps on calling consultative meetings with a view to formulating the government's industrial policy and outlining development prospects for this sector. Today the Prime Minister held a similar meeting with chemical industry executives. In attendance were representatives from the ministries and agencies concerned.
As assured by the Prime Minister, these meetings seek to find a common ground for public-private sector cooperation and outline the scope of State support when meeting the threats stemming from the global financial and economic crisis.
After hearing the Minister of Energy and Natural Resources and the chemical industry executives, Tigran Sargsyan suggested that the representatives of business community submit their own development plans to the operative unit established by the government where they will have to indicate the type of such assistance - legislative, certification-related, lending etc – as is expected from the executive. He assured that the State is interested in backing those companies with a strong export capacity, high consumer demand and sales markets. The Prime Minister told the Minister of Economy to sum up the industry-related discussions and submit a concept of per-sector development in industry.