Monday, 22 December 2008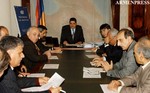 The Jubilee Commission on preparation of centennial celebration of Jacob Zarobyan's birth met at the Office of Government, chaired by head of commission, RA Prime Minister Tigran Sargsyan.

The commission discussed the course of implementation of the actions dedicated to the 100th anniversary of the renowned statesman and politician. It has been noted that on September 25, the birthday of Jacob Zarobyan, an exhibition of photo and archival materials on his life and activity was held in the National Archive of Armenia, radio and TV broadcasts have been organized to this end.
Next year a National Academy of Sciences-hosted symposium will be held on Zarobyan's public and political activities. A book authored by Yegisheh Ascatryan will be published, entitled "Jacob Zarobyan, a documentary film will be issued, a memorial board will be posted on the building situated at Issahakyan-38, where the renowned public figure used to live during his lifetime. Account taken of his outstanding services to the construction of Arpa-Sevan tunnel and Genocide victims' memorial complex, it was suggested that the alley next to the memorial complex and a school in Sevan region should be named after Jacob Zarobyan.
In conclusion, it was decided to sum up all of the proposals submitted in order to finalize the program of action and submit it to the next commission session for approval.