Wednesday, 22 June 2022
Deputy Prime Minister Mher Grigoryan receives newly appointed IMF Mission Chief for Armenia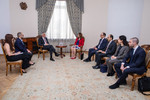 Deputy Prime Minister Mher Grigoryan received the delegation led by the newly appointed Mission Chief for Armenia of the International Monetary Fund (IMF) Iva Petrova. Resident Representative of the IMF in Armenia Mehdi Raissi was also present at the meeting.

At the beginning of the meeting, Deputy Prime Minister Mher Grigoryan congratulated Iva Petrova on assuming the responsible position, emphasizing that the Government highly values cooperation with the IMF.

Iva Petrova thanked for the warm welcome and discussed with the Deputy PM the possible new directions of cooperation with Armenia.

In this context, the Deputy Prime Minister presented the reforms being implemented by the Government, spoke about the importance of human capital development, in particular, the existing problems in the field of education, healthcare and social protection and the planned reforms.

The sides also referred to the regional developments and the economic and financial risks facing Armenia under those conditions and the chances to counteract them.