Monday, 1 August 2022
Arayik Harutyunyan meets with Georgian FM Ilia Darchiashvili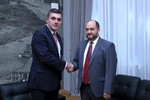 Chief of Staff of the Prime Minister Arayik Harutyunyan had a meeting with Georgian Foreign Minister Ilia Darchiashvili in Tbilisi.
The interlocutors emphasized the consistent development and expansion of relations between the two neighboring and friendly countries, stressing the importance of high-level mutual visits.
Reference was made to the processes taking place in the South Caucasus region, as well as other issues of mutual interest.