Thursday, 21 April 2022
Deputy Prime Minister Mher Grigoryan receives EU Special Representative for the South Caucasus and the Crisis in Georgia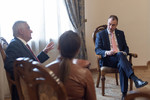 Deputy Prime Minister Mher Grigoryan received Toivo Klaar, EU Special Representative for the South Caucasus and the Crisis in Georgia. The Head of the EU Delegation to Armenia, Ambassador Andrea Wiktorin was also present at the meeting.

During the meeting, the sides discussed the implementation of the 9th point of the November 9, 2020 declaration of the Prime Minister of the Republic of Armenia, the President of the Republic of Azerbaijan and the President of the Russian Federation on unblocking regional transport communications. The Deputy Prime Minister presented the position of the Republic of Armenia, attaching importance to this process as a guarantee of long-term peace and stability in the region.

The sides also discussed the establishment of a bilateral commission on the border issues between Armenia and Azerbaijan, as well as the implementation of the agreements reached at the trilateral meeting in Brussels on December 14, 2021.