Wednesday, 23 February 2022
Deputy Prime Minister Mher Grigoryan receives the EBRD Regional Director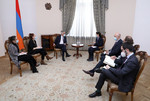 Deputy Prime Minister Mher Grigoryan received Catarina Bjorlin Hanse, Regional Director of the European Bank for Reconstruction and Development (EBRD).

Welcoming the guest, the Deputy Prime Minister praised the cooperation with the EBRD, presented the reforms initiated by the Government in the spheres of economy and infrastructure. The sides stressed the need to take measures to develop the capital market.

During the meeting the interlocutors discussed the process of programs implemented in Armenia in cooperation with the EBRD. Reference was made to the existing preconditions for improving the business environment in Armenia, existing and possible new tools for supporting business.