Tuesday, 15 March 2022
Deputy Prime Minister Mher Grigoryan receives the ADB Executive Director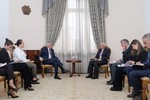 Deputy Prime Minister Mher Grigoryan received Executive Director of the Asian Development Bank (ADB) Arif Baharudin. Welcoming the guest, the Deputy Prime Minister praised the level of comprehensive cooperation with the ADB and thanked for supporting the efforts of the Government of the Republic of Armenia in overcoming the coronavirus pandemic.

The Deputy Prime Minister also highlighted the cooperation with the ADB for the private sector, in particular, in terms of creating the right business culture and increasing business transparency. Emphasizing that ADB is significantly involved in the reform process in Armenia in a number of directions and key programs for Armenia, the Deputy Prime Minister presented the content and main directions of the reforms being implemented by the Government. The sides referred to the development of human capital, infrastructure, economic reforms, and possible cooperation with the ADB in those directions.

The interlocutors attached importance to ADB's involvement in the North-South highway construction project.

Possible directions for expanding cooperation were discussed.